All Investment Ideas
Invest in Fear Index
Please, log in or sign up to invest in Fear Index
Why you should bet on VXX decline
VXX is an exchange-traded note issued by Barclays Bank PLC linked to the VIX Index that is based on S&P500 VIX Short-Term Futures™ Index created to display equity market volatility evolution using the volatility index futures (the Fear Index).

Instrument's constituents - short-term VIX futures – are mostly in contango as a complacent market environment prevails over crisis environment. This makes VXX an instrument in a continuous decline by 50% a year on average.

VXX starts rising only if the stock market falls sharply and rapidly; other than that, it declines. The charts below exemplify how often price spikes occur.
Price Drop Chart VXX, $
Price Drop Chart VXX, $
Price Drop Chart VXX, $
Shorting VXX as an Investment Strategy
This approach enables avoiding losses from minor price fluctuations as well as additional fees. If VXX rises by 30%, this investment becomes high-risk and may result in a loss of the entire capital; this is why, the risk management system would close the position if losses exceed the above threshold.
Why invest with United Traders?

MARKET PRICING
Buying and selling VXX ETF takes place each Monday morning at the prevailing exchange price.

TIMING
Buying and selling is done only once a week. This way, you avoid losing money from minor price fluctuations.

INVESTOR-FRIENDLY
You can replenish your account and withdraw funds using a card or by transfer to a settlement account with a minimum bank fees.
BUILT-IN RISK MANAGEMENT
The automatic risk management system is triggered if losses exceed 30%, which makes mandatory approval of investments by a risk manager unnecessary.

LOW ENTRY FEES
Investors have no need to request daily locates, with each locate running into at least $20 a day. Locates are required to sell equities short.

TRANSPARENCY
After you make your investment, you can track the performance in My Investments section.
Tracking results
You can track the results of your investment in your account on the computer or smartphone. The charts are updated in real time – you can complete a transaction any moment you want.

Below the chart you can see the number of bought coins and the current value of the asset. Here you can also see the transaction report.

We recommend you don't respond emotionally to possible price fluctuations. The investment idea on a fall in volatility is intended for long-term. However, we don't set any time limits – you can complete your transaction at any time.

The investment process is very fast: the entry/exit request sent this week will be executed on Monday next week.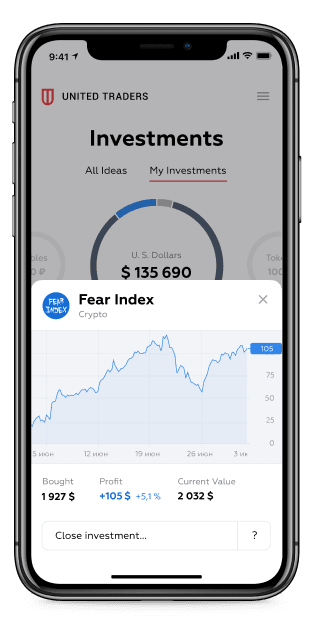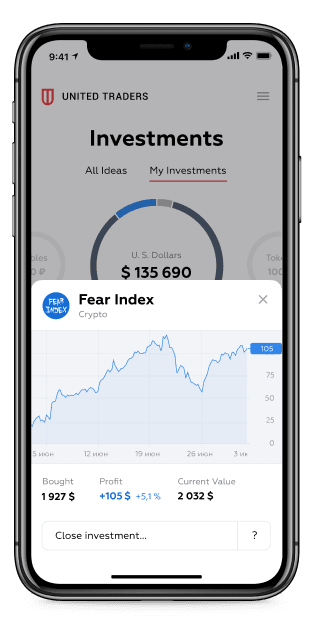 Quarterly return on investment
| Year | 1st quarter | 2nd quarter | 3rd quarter | 4th quarter |
| --- | --- | --- | --- | --- |
| 2019 | 60,59% | 12,54% | 9,52% | 36,31% |
| 2018 | -42,86% | 32,72% | 33,29% | -41,05% |
| 2017 | 59,38% | 25,49% | 27,50% | 42,86% |
| 2016 | 19,24% | 32,27% | 60,58% | 34,31% |
| 2015 | 18,78% | 34,43% | -25,61% | 18,16% |
| 2014 | 2,83% | 48,34% | -9,22% | 2,46% |
Average return on investment for October 2019
YTD return
1 year return
3 year
annualized return
3 year
cumulative return
5 year
cumulative return
97,90%
16,70%
79,40%
477,10%
2001,90%
Key Investment Terms and Conditions
TRANSACTION DETAILS
By signing up on the website you accept the public offer. The public offer details any and all legal matters.
TERMINATION TERMS AND CONDITIONS
This investment shall be in effect until September 1 and will be closed automatically after the above date. The investment may be closed compulsorily prior to the above date if the respective losses exceed 30%.
MISCELLANEOUS
Settlements are rounded to two decimal places; therefore, the actual buy amount may be lower than you deposited. The remaining balance will be credited to your account.
Fees
ENTRY FEE
5% of the share purchase amount. The fee is charged at confirmation of your investment bid.
Risks
United Traders is experienced in mitigating any risks, but a future investor must be aware of all the risk types:
Any positive performance this strategy has shown in the past does not guarantee any similar performance going forward.
Volatility may rise by more than 30% following extremely negative news or any force-majeure events in the stock market.
This instrument is offered by Barclays Bank PLC, and therefore, a counterparty risk always remains.
The risk management system as any technical means may be subject to errors and malfunctions; therefore, there is no 100% guarantee that losses will be kept at or below 30%.
Being short the VXX is a high-risk investment!
Invest in Fear Index
Please, log in or sign up to invest in Fear Index