All Investment Ideas
Dropbox
The best sharing and storage solution for business
IPO
Medium risk
The company's revenue from 2015 to 2017
Requests up to
23 Mar 20:00
Commissions
Enter
3
 %
·
Leave
1
.75 %
·
Success
20
 %
Please, log in or sign up to invest in Dropbox
About the investment idea
ABOUT COMPANY
Modern economy runs on knowledge. Today, knowledge lives in the cloud as digital content, and Dropbox is a global collaboration platform where more and more of this content is created, accessed, and shared with the world. We serve more than 500 million registered users across 180 countries.
Our market opportunity has grown as we've expanded from keeping files in sync to keeping teams in sync. Today, Dropbox is well positioned to reimagine the way work gets done. We're focused on reducing the inordinate amount of time and energy the world wastes on "work about work"—tedious tasks like searching for content, switching between applications, and managing workflows.
Our custom-built infrastructure allows us to maintain high standards of performance, availability, and security. Dropbox is built on proprietary, block-level sync technology to achieve industry-leading performance.
Growth Strategy
Increase adoption and paid conversion. We estimate that approximately 300 million of our registered users have characteristics—including specific email domains, devices, and geographies—that make them more likely than other registered users to pay over time.
Upgrade our paying users. In 2017, over 40% of new Dropbox Business teams included a member who was previously a subscriber to one of our individual paid plans. We believe that a large majority of individual customers use Dropbox for work, which creates an opportunity to significantly increase conversion to Dropbox Business team offerings over time.
Apply insights to build new product experiences. As our community of users grows, we gain more insight into their needs and pain points.
Expand our ecosystem. Our open and thriving ecosystem fosters deeper relationships with our users. As of December 31, 2017, Dropbox was receiving over 50 billion API calls per month, and more than 500,000 developers had registered and built applications on our platform.
The performance of the economy Dropbox
Loss decreases, in 2018, the company plans to become profitable
Revenue, mln $
Net income, mln $
OPEX, mln $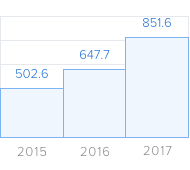 Paid subscriptions, mln
2-3 weeks before the start of the company publishes information about the opening of trading: financial statements for 3 years, a description of the company's business, plans for the future, as well as the risks that management sees in their own business. We analyze such offers and publish the best ones. Investors apply for deposits. Before the deadline for applications, you can change the request or cancel it.
We submit one large application for the purchase of shares by pre-subscription with reduced price to large investors. The application may be rejected in part or in full. Over the past three years, our applications have been rejected only three times. The next day, or every other day, we'll know at what price and at what percentage the order is executed, and we'll post it on «The my investment page».
Submit applications before
15 March
The price of shares is rising from the first day due to the demand of investors deprived of the opportunity to buy shares before trading. Most of the stocks we've been recommending buying over the past three years have been starting to trade on the stock exchange at tens of percent higher than the price at which customers bought the shares. There comes a Lock up period when it is forbidden to sell shares purchased by subscription. Typically lasts 3 monthsOn early closing of investments.
Annual return forecast
+ 80 %
After the expiration of the Lock Up period, the investment is automatically closed and the investor receives a profit on account of the deduction commissions UT. You can always view the results of your past investments in investment archive.
Although no shares are allowed to be sold during the lock-up period, our traders seek to offer investors fixed profit by way of using various financial instruments, including forwards, options, short positions etc.
From the investor's point of view this means that he or she may close an investment by paying a certain part of its value (as a rule, approximately 15 percent). This is due to high prices for the instruments which are employed to ensure availability of fixed profit. As such, you shall press any relevant button in the Investor Account as soon as it is active.
The closing procedure is similar to commencement of investment business. You shall file a bid which is executed within a business day by UT. So, your investment is closed at the price currently prevailing on the stock exchange. However, we rarely recommend using this feature, since upon expiry of an applicable lock-up period the average performance is higher.
FOR ENTRY
3 per cent of the share price. This fee is charged as soon as your investment bid is confirmed.
FOR EXIT
1.75 per cent of the purchase price paid for your shares as soon as trading is closed. This fee is charged upon closure of any relevant investment.
SUCCESS
20 per cent of the profit your derive. This fee is charged only if you show positive performance as of the moment any relevant investment is closed.
TO EARLY EXIT
Usually, 15 per cent (depends on the stock exchange environment). It is calculated per each investment individually.